Form Impianti is a world leader manufacturer of machines and plants that produce top-quality concrete products.
Small, medium or large plants, all powerful, efficient, simple and versatile, with an exceptionally long service life. Group TEXNOKAT  with full support of Form Impianti offer the best quality/price ratio on the Greek market and moreover.
Form Impianti philosophy is based on intensive use of precision mechanical machining in order to achieve significant improvements in the quality of the final product. Thorough checks are carried out on the smallest component just like on the most important structures.
All phases of the constructive process are carried out within our facility by expert workers who operate in homogenous teams. All the plants undergo a final test and inspection before they are installed.
Our plants feature a solid mechanical base in order to minimise possible problems and ensure an extremely long service life of the plants. We use electronics only when it is strictly necessary for update and modernisation purposes, since electronic components are, by their very nature, more delicate and subject to problems, whilst a solid mechanics is efficient, long-lasting and easy to repair.
PRODUCT RANGE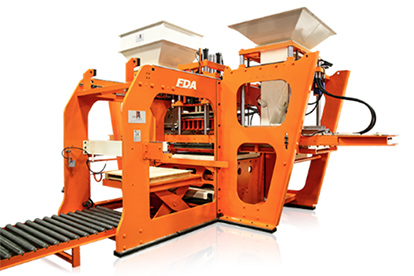 SERIES FDA
Machine suited for the production of multiple floor and grid paving models, with height from 5 cm to 20 cm.
Description
Vibropress designed and conceived for the production of high-quality floors. Specifically intended for manufacturers of self-locking floors, this machine uses the "multilayer system", and moulds directly on the pallets forming self-supporting packs.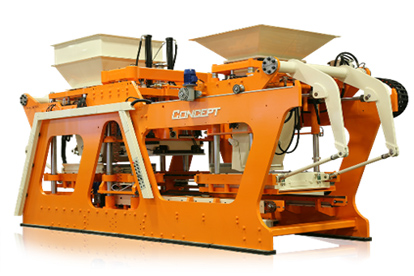 SERIES CONCEPT
Machine suited for the production of all types of standard and special products with height from 4 cm to 30 cm.
Description
Over forty years of experience are enclosed in this "Concept" project. The flagship model in its category, innovative and superior in terms of solutions and sturdiness, it allows production rates at the highest levels. All functional groups on this machine are the best made available by modern technology.
Version Super
*Hollow blocks:  20x40 H 20 cm: No. 34,560 (100% / 8h)
*Paver: 10x20 H 6 cm: m2 3,168 (100% / 8h)
*Paver face-mix: 10x20 H 6 cm: m2 2,534 (100% / 8h)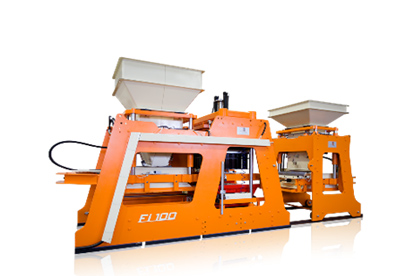 SERIES Fi 1200
Machine suited for the production of all types of standard and special products with height from 4 cm to 30 cm.
Description
Vibropress designed and built for high productions, using very thick metal sheets, mechanically assembled one to the other, to ensure excellent solidity and high reliability.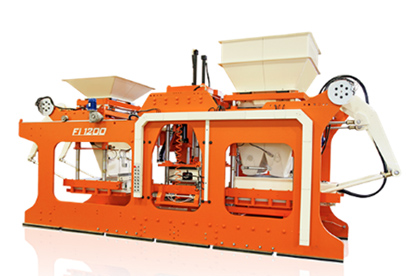 SERIES Fi 500
Machine suited for the production of all types of products with height from 4 cm to 30 cm.
Description
Vibropress designed to obtain high productivity at extremely competitive costs.
The adoption of advanced technical/hydraulic solutions makes it possible to achieve good times on the product cycle.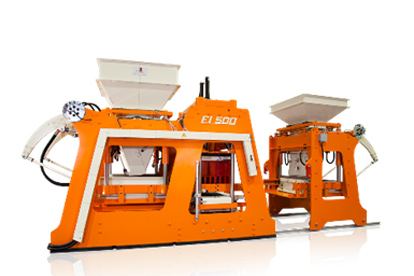 SERIES Fi 100
Versatile machine for production of all types of products with height from 4 cm to 30 cm.
Description
Vibropress ideal for medium production runs. The Vibropress is built according to the constructive philosophy of Form Impianti; the result is a solid, sturdy and long-lasting machine.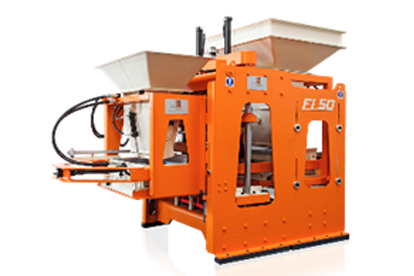 SERIES Fi 50
Versatile machine for production of all types of products with height from 4 cm to 25 cm.
Description
Vibropress ideal for companies starting out in the sector of concrete products production. Simple and reliable mechanics. The constructive quality is the same as superior-category vibropresses; solid, accurate and versatile, it can be easily incorporated in a wide range of automations.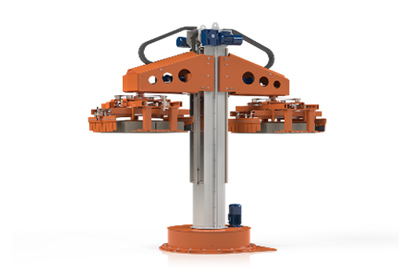 CUBING SYSTEMS
The gripper is suited to picking up the cured products and to transfer them to another station on a slat conveyor, thus forming a pack with a variable number of layers. The gripper system, operated by means of pneumatic cylinders, consists of 4 opposite clamps with 0°- 360° rotation. The up/down and rotation movements are electrically controlled.
The automatic gripper is able to meet a large number of needs in order to best optimize productivity of the plant. In high-productivity installations, the gripper can be installed with the double grab unit.
We have developed an integrated transport system for all those situations where there is a need to have a product pack accumulation system at the plant outlet. The system consists of an automatic motorized skip that moves inside a metal structure equipped with tracks that supports the packs. This solution makes it possible to provide the operators in charge of transferring the ready packs towards the storage area in the yard with high autonomy in terms of time.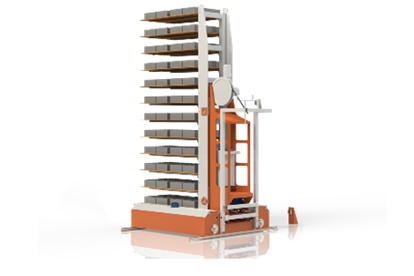 AUTOMATIC TRANSFER SKIP
The automatic transfer skip consists of two groups (Master and Lem) electrically controlled from the centralized control panel. It is installed to serve automatic plants for the transfer of fresh/dry products inside the curing cells.
Depending on the configuration of the production plant, the automatic transfer skip can be freely configurable in terms of the number of layers and corresponding capacity; moreover, the Lem skip can carry out a 180-degree rotation in case of special needs.
The automatic transfer skip is equipped with a control panel with installed a Siemens PLC with S7 programming logic. A programmable keyboard allows the operator to set all automatic skip parameters, such as movement speed, missions, etc. The position of the Master and Lem skip is controlled by means of an encoder, whilst the data transmission takes place by means of photocells.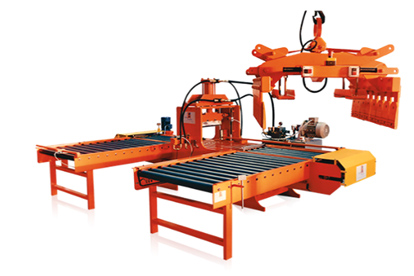 SPLIT MATIC SPLITTER
Following the growing demand for split blocks, in other words with exposed side surface similar to the natural stone obtained by mechanical fracture, this splitter was designed and built with the same care and attention reserved to the plants.
The objective was to make a simple, sturdy and efficient machine. Special attention was paid to the design of the breaking unit as well as to the pushers designed for easy use; moreover, the electric gripper, thanks to its easy handling, makes the job easier.
This splitter can be incorporated in a totally automatic loading/unloading plant. From the pallet with the stone blocks to be split to the pallet with the split blocks and, if necessary, incorporated strapping. In addition to the splitter, the plant also consists of an automatic multi-station gripper, motorized conveyors for product inlet and outlet, a pusher with the relative exchanges for disassembly and re-coupling of the blocks present on every palletized layer.
This group of machines makes it possible to obtain packs of split blocks already palletized in automatic mode, starting from packs of blocks to be split on the same pallet. The group is fully automated by means of a PLC and requires the presence of a single operator for quality control tasks. It is thus possible to maximize production and limit product defects.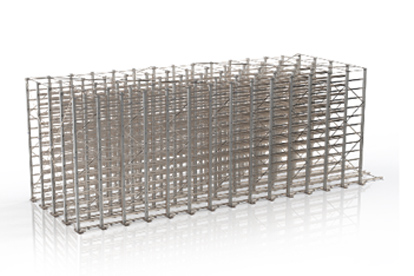 STORAGE SYSTEM
For product drying purposes, we developed a system of modular curing cells made of metal. This allows quick and safe assembly of the cells, greater accuracy and in any case the possibility to adjust the tracks for the sliding movement of the automatic loading/unloading skips, as well as high operational safety.
Last but not least, there are other advantages, such as easy disassembly/assembly at another location and increase or decrease of the tables capacity. The groups of cells thus built can be covered and insulated so as to be used outdoors too, with no additional structures.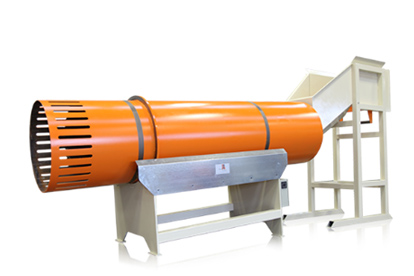 STONE ANTIQUE SYSTEM
The tumbler is a device designed and built for the post-production treatment of self-locking floors of different shapes and sizes, in the single or double layer conformation.
With a system featuring rotation controlled by a semi-automatic cycle, the operator places a flooring pack (without the nylon, strap and pallet) and sets the duration time of the antiquing process.
At the end of this operation, the antiqued products will exit the tumbler ready to be sold. This type of floor is suited to classic and/or antique environments.
Versatile system with various solutions for introducing the products.